Tour Dates
Additional info and ticket links here →
4 Dec 2022
Stadthalle
Graz, Austria
6 Dec 2022
BSA
Bud­apest, Hungary
7 Dec 2022
Atlas Arena
Lodz, Poland
9 Dec 2022
Sportpaleis
Ant­werp, Belgium
11 Dec 2022
Royal Arena
Copen­ha­gen, Denmark
14 Dec 2022
Palazzo dello Sport
Rome, Italy
15 Dec 2022
Kioene Arena
Padova, Italy
16 Dec 2022
Mediolanum Forum
Mil­an, Italy
16 Jun 2023
Molleparken
Son­der­borg, Denmark
21 Jun 2023
Roman Arena
Pula, Croatia
27 Jun 2023
Piazza Duomo
Trani, Italy
28 Jun 2023
Sferisterio
Macerata, Italy
1 Jul 2023
Piazza Napoleone
Lucca, Italy
3 Jul 2023
Piazza Castello
Marost­ica, Italy
4 Jul 2023
Sonic Park Stupinigi
Nich­elino, Italy
8 Jul 2023
Zitadelle
Ber­lin, Germany
9 Jul 2023
Peissnitz Insel
Halle An Der Salle, Germany
11 Jul 2023
Wunderino Arena
Kiel, Germany
12 Jul 2023
Sparkassen Arena
Monchenglad­bach, Germany
14 Jul 2023
Kunstrasen
Bonn, Germany
15 Jul 2023
Zitadelle
Mainz, Germany
16 Jul 2023
Stimmen Festival
Lor­rach, Germany
19 Jul 2023
Mangfall Park
Rosen­heim, Germany
20 Jul 2023
Schlosshof Thurn und Taxis
Regens­burg, Germany
21 Jul 2023
Domplatz
Fulda, Germany
25 Jul 2023
Schloss
Salem, Germany
28 Jul 2023
Barockgarten
Fussen, Germany
30 Jul 2023
Castle Clam
Klam, Austria
4 Aug 2023
Murcia On Fest
Murcia, Spain
5 Aug 2023
Concert Music Festival
Poblado de Sanc­ti Petri, Spain
Video
News
November 7, 2022
Simply Red have announced 20 sum­mer shows in Europe next year. Tick­ets for most go on gen­er­al sale on Fri­day at 10am CET (or Sat­urday at 10am CET for the 5 Itali­an shows) but you can take part in pre-sales from 10am CET tomor­row (Tues­day 8th). Check out our tour dates sec­tion for more information.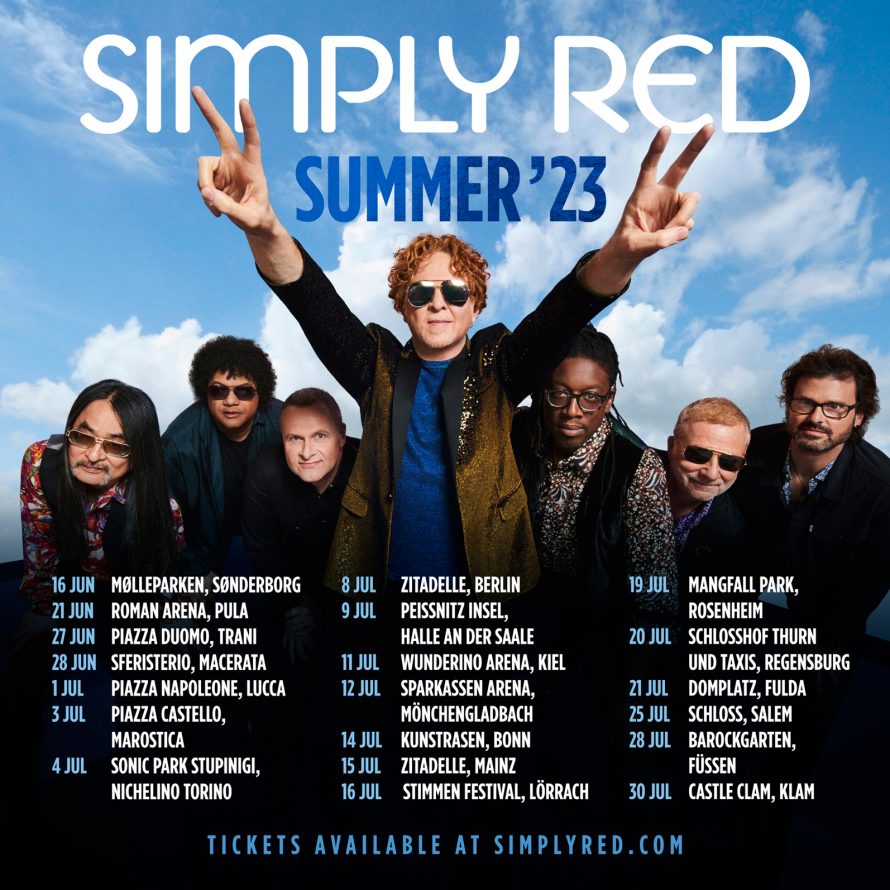 November 4, 2022
Simply Red begin the European leg of their tour this Sunday, kick­ing off with a sold out show in Paris!
Tick­ets are selling out fast, so make sure you get yours now. Check out our tour sec­tion for tick­et links.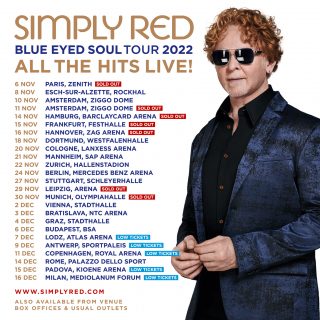 October 27, 2022
We can now con­firm that the Luke Andrews Band will also be spe­cial guests for the Itali­an leg of the upcom­ing European tour.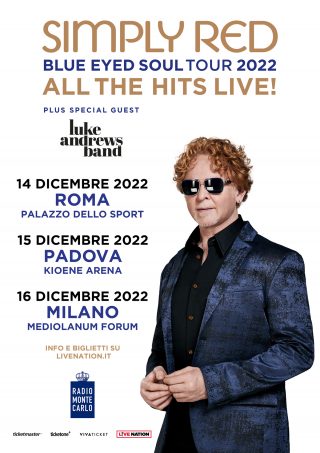 Spotify
Instagram